"Souped Up" Decoupage Tutorial
Okay, I am going to admit something here. I was wrong! I would like to say that I am not wrong very often but history would not support me. What was I wrong about? Decoupage. For years I wrote it off as a kid's craft and something that held no interest for me. But, through my association with a wonderful artist and friend from Taiwan, Serina Huang, I have come to see decoupage as a wonderful art that holds many possibilities.
There are many outstanding decoupage artists that are doing amazing things with paper products. In the future, Cathy will be doing additional tutorials on using decoupage to create some beautiful, artistic and thrifty gifts for the holidays. But, for our purposes today, we are using decoupage on furniture.
When I started to consider the possibility of using decoupage on some of the furniture that moves through our business I had some real misgivings about the permanence and strength of the finish. I had done it before and wasn't pleased with the durability of the finished pieces. Serina changed my mind as she taught me the "souped up" method. This finish is strong and is appropriate for furniture pieces. Learning these techniques allow us to include decoupage in our repertoire of effects with the security of knowing that the pieces that we sell are strong. We don't want it going out our shop door if we wouldn't feel comfortable using it in our own home.
The souped up decoupage method begins by using the right products. A few years ago, artist David Jansen developed the Heritage MultiMedia line of paints and products. The products that we will use on our souped up method have been specifically developed with the decoupage industry in mind. They are strong, thick and perfect for this technique
This tutorial will be done on a sign that uses old pages from a book. I am not demonstrating this on furniture as a smaller object is easier to move around under the camera. However, this would work exactly the same on furniture. You may need to modify this so it is appropriate to your needs but follow these steps like a recipe and you will be successful.
Let's get started.
Step 1-Gather all of the necessary supplies.
For this lesson you will need to purchase:
Heritage MultiMedia Multi-Surface Sealer
Heritage MultiMedia Glazing Medium
Heritage MultiMedia Matte Varnish
These three products are available as a Decoupage Kit that can be purchased through our sister site at http://www.creativelegacyartstudio.com/index.htm. The kit offers these products to you at a special kit price that is lower than the retail price for each individual bottle.
You will also need the following products, most of which you will have around your home:
Clean water
Old credit card or other straight edge tool with curved ends
Clean sponge
Furniture pieces or surface to decoupage
Colorfast sheet music, book pages or other paper products to be decoupaged
If you are going to do this particular project with the lettering you will also need the following products:
Printer to print out lettering for the sign
Black paint to paint the letters
Dark graphite transfer paper
Step 2-Choose paper products that will be the subject of this project. Consider old book pages, old sheet music, old photographs etc. Let your imagination run wild!
Step 3-Seal paper products. Use Heritage MultiMedia Multi-Surface Sealer and cover the side of the paper that will face up with one thin coat of unwatered Sealer. Refer to the following step photo. In addition to giving the paper a bit more strength it will also guarantee that the paper is colorfast and the ink won't run as it gets wet.
Put these paper products aside as they dry. You can also seal the back of these paper products if you desire. I did not.
Step 4-Sealing the surface. As your sealed paper products are drying, you need to apply a coat of watered down sealer over the surface that you will adhere the paper products to. In this case I will seal this MDF surface so that it is ready for decoupage. Specifically create a mix of water to sealer in a ratio of one part water to one part Sealer and apply to the surface. This will seal paint, varnish or any surface that you are going to decoupage the paper products to. This will prevent any bleeding that may come through the paper from the surface you are applying to.
Step 5-Force the surface dry with a hair dryer.
Step 6-Lay out the paper products on the surface in the approximate order that you want the finished product to look. Take a picture of this so that you can refer to it if you get confused or forget. I use my cell phone for this step. The paper may not end exactly as it appears in this step but you will get close.
Step 7-Apply the first piece of paper to the surface. Start in a corner, apply a thin coat of unwatered Sealer to an area somewhat larger than the piece of paper that you are going to lay down. Think of this sealer as glue as it is sticky like glue. Working fairly quickly, lay the paper down and start in the center, press gently with the credit card to get rid of most of the air bubbles. Also use a dry, clean sponge and gently press the paper down to the surface for further security. Make sure that the paper over laps the edge of the sign but make sure it doesn't stick beyond where you want it to. Don't worry as we will be trimming this off at a later time.
Step 8-Wet the sponge, ring out all of the Sealer and squeeze it totally dry.
Step 9-Apply another coat of thin, unwatered Sealer to an area larger than the next piece of paper that you wish to apply. Please overlap the paper as shown in the following step photo and don't worry about Sealer going over the piece of paper that is already adhered to the surface. It won't hurt it at all. Refer to the following step photo for the correct look.
Work in small sections and apply one piece of paper at a time. The Sealer dries quickly so working on small sections is easier.
Finish the entire top by repeating step 9 until it is covered
Step 10-Once the top is completely covered force it dry with a hair dryer. Don't worry about paper hanging over the edge as we will take care of that in the next step.
Step 11-Trim off all of the paper that hangs over the design as shown in the following step photo.
Step 12-Lightly sand where the paper meets the surface to clean up any rough edges. I don't worry about small tears and imperfections on the edge as it adds to the effect of the old pages.
Step 13-Apply a light coat of unwatered Sealer over the entire piece.
Step 14-Apply a very thick coat of Heritage MultiMedia Glazing Medium as shown in the following step photo.
Step 15-Force dry this thick coat of Glazing Medium with a hair dryer. This will take a while to dry and will appear cloudy until it is totally dry. Make sure that it is TOTALLY dry before moving on to step 16.
Step 16-Apply two more coats of thick Glazing Medium, force drying between each coat.
Step 17-After making sure that this step is TOTALLY DRY, sand lightly with 320 grit sand paper or a light sanding block.
If you are not applying lettering or painting over this surface you can skip to step 21 to complete the project.
Step 18-Using the tutorial on lettering in our previous post, print out the word "READ" to be applied over these pages.
Step 19-Using the black graphite or transfer paper, trace the outside of the letters on to the sign.
Step 20-Paint these letters with two coats of black paint as shown in the step photo. Dry well.
Step 21-Apply two or three coats of Heritage MultiMedia Matte Varnish.
This finish will be strong, fairly watertight and ready for home use. This is exactly the same souped up decoupage technique that we use on all of our decoupaged furniture and our clients are very happy. I hope this tutorial was helpful. Send us some pictures of your finished creations. Such fun!
Lastly, we have been talking about a surprise coming soon. To help our readers, we are planning a giveaway on Monday, August 13th. We will use a random drawing to give away two Decoupage Kits that will also include a sponge and an old book for your first decoupage project. We will also be giving away the Read sign created in this tutorial. Please come back Monday to participate in our giveaway.
It was great visiting with you,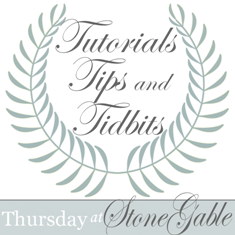 Posted by
admin
| 20

comments